Centre Delàs updates the worldwide armed banks database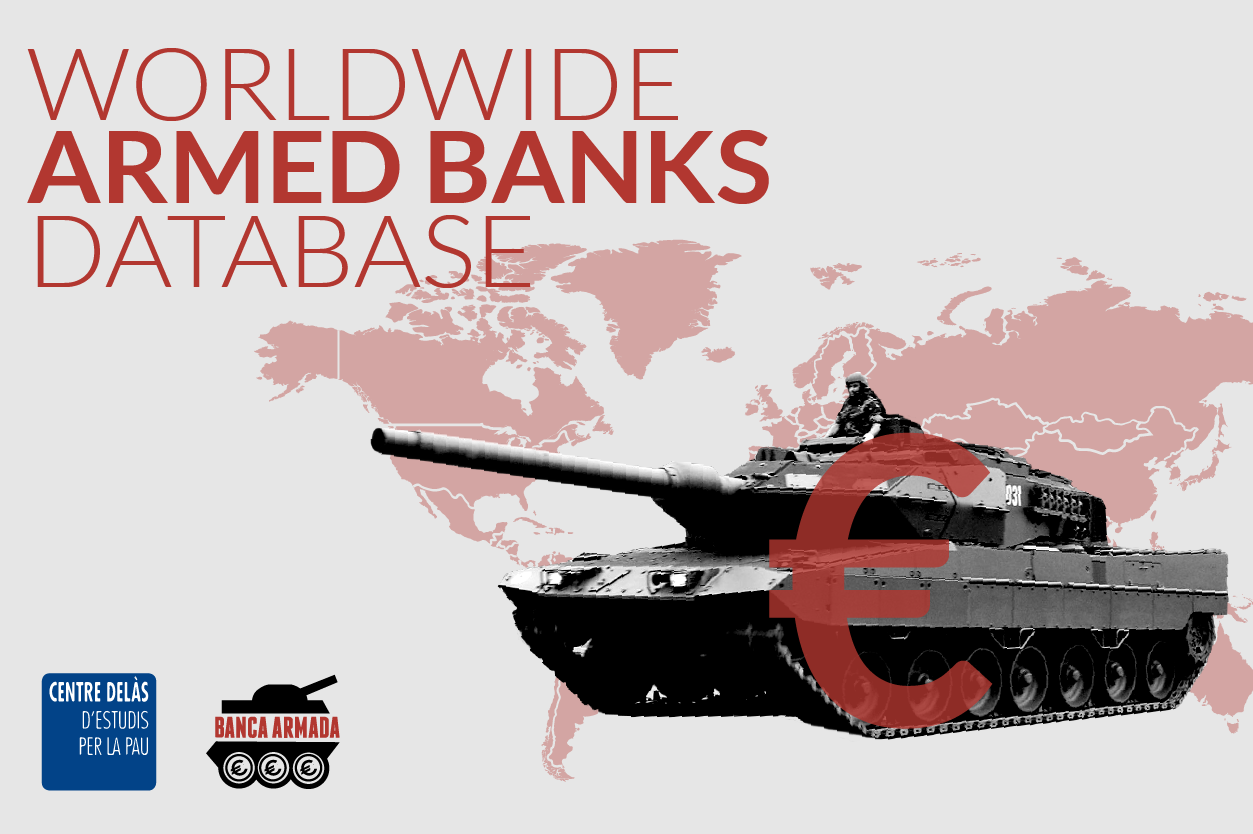 The Delàs Center offers new data on banks operating in the Spain that are funding the arms industry, trhough the database launched in 2017, and which year after year is enriched with new contributions, thanks to the support, among others, Barcelona City Council, Grassroots Foundation and the Generalitat Valenciana.
This update includes new data provided by SOMO (Centre for Research on Multinational Corporations) – as a result of the access to Thomson Reuters Eikon's database on 2018 July, 12th, 17th and 18th about the funding of 29 weapon companies, all of them included in the SIPRI Top 100 warms‑producing and military services companies 2017 (except from Indra): ASELSAN, Austal, CAE, Cobham, DCNS, Elbit Systems, Embraer, Fincantieri, Indostán, Aeronautics, Indra, Israel Aerospace Industries, Kawasaki Heavy Industries, Kongsberg Gruppen, Korea Aerospace Industries, L-3 Technologies, LIG Nex1, Airbus, BAE Systems, Leonardo, Mistubishi Heavy Industries, Rheinmetall AG, Rolls-Royce, Saab, ST Engineering, ThyssenKrupp, United Aircraft, United Shipbuilding Corp and United Technologies. Among those 29, 15 were not previously reported in the database, this one thereby counts now on data about new arms companies from countries such as Israel, Japan, South Korea, Turkey, Singapore, Sweden and Brazil.
De éstas 29 empresas, 15 todavía no formaban parte de la base de datos, ampliándose ésta con nuevas compañías que provienen de países como Israel, Japón, Corea del sud, Turquía, Singapur, Suecia y Brasil.
En el marco de esta nueva actualización, están disponibles los datos más recientes sobre todas las entidades financieras españolas (un total de 6), y extranjeras que operan en el Estado español (29 entidades), con inversiones destacadas en empresas de armamento nuclear entre enero del 2014 y octubre del 2017, identificadas en el Informe Don't bank the bomb 2018.
Así mismo, incluye solo acciones y participaciones en empresas de armamento nuclear que superen el 0,5% del número total de acciones en circulación. 5 de las 25 entidades financieras que operan en el Estado español – BlackRock, JP Morgan Chase, Bank of America, Citigroup y Goldman Sachs – encabezan el TOP 10 del Hall of Shame, por ser las mayores entidades financiadoras de empresas de armamento nuclear a nivel mundial, con una suma total de inversión que asciende a 95.454 millones de euros.