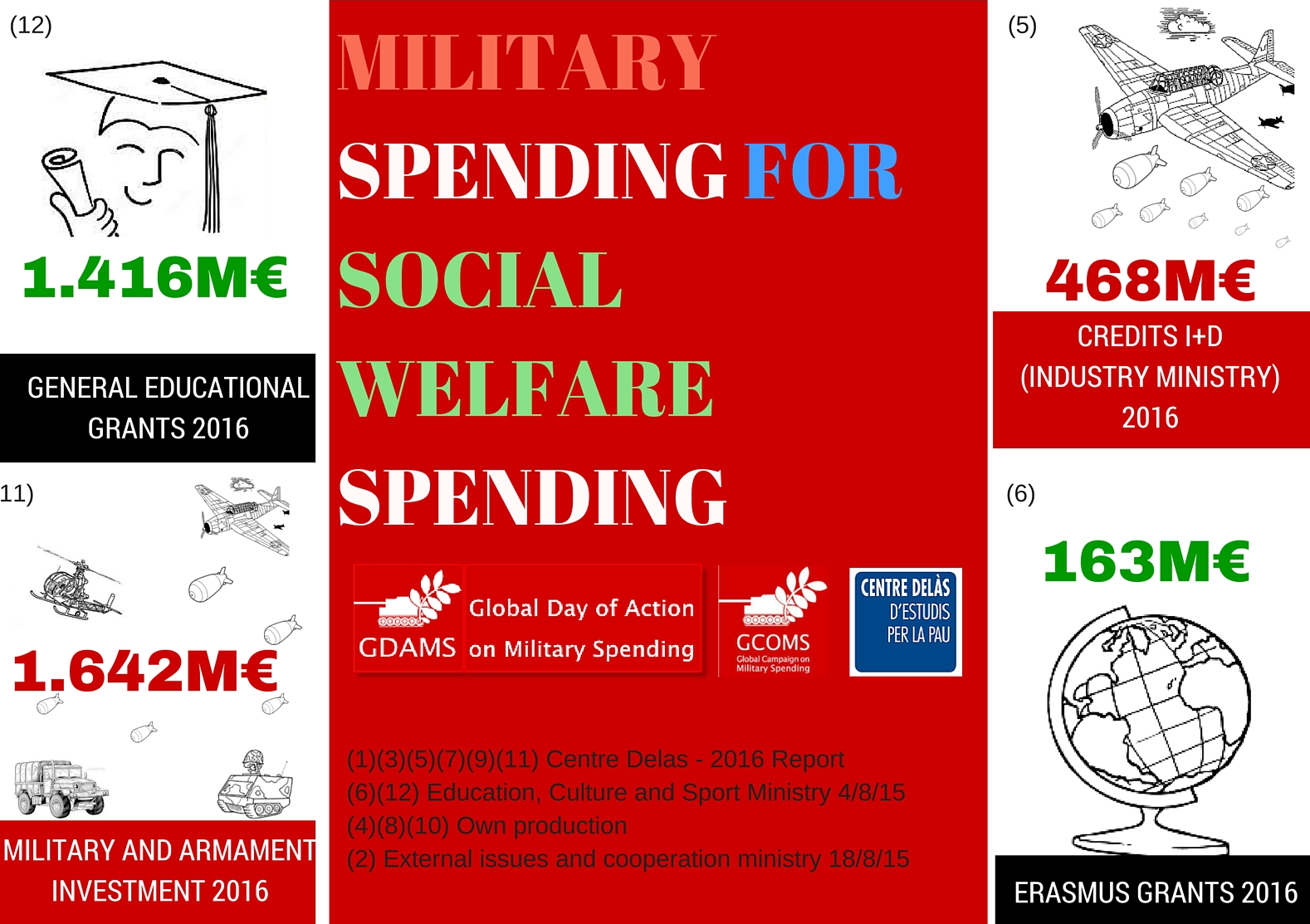 Global military expenditure in 2015 was an estimated $1676 billion, representing an increase of about 1.0 per cent in real terms from 2014, according to the new SIPRI report. Given the context of dismantling the welfare state and continued social policy budget cuts, is investing military sector the right priority for the use of public money? Within the framework of the Global Campaign on Military Spending (GCOMS), from the Delàs Center, we say no: we have to reduce military spending!
For this reason, together with other peace organizations and in collaboration with the International Peace Bureau (IPB), we support this global movement calling for the reduction of military spending and investment in social spending. Since 2011, coinciding with the publication of the annual report of the Stockholm International Peace Research Institute (SIPRI) on global military spending data, IPB have been organizing a global day of action to draw public, media and political attention to the costs of military spending, need for new priorities and global transformation towards a culture of peace:
Peace: disarmament, conflict prevention and resolution, human security;
Sustainable development and anti-poverty programmes;
Environment programmes against climate change and biodiversity loss;
Social justice and welfare, human rights, gender equality and green job-creation.
EVENTS AND ACTIONS 2016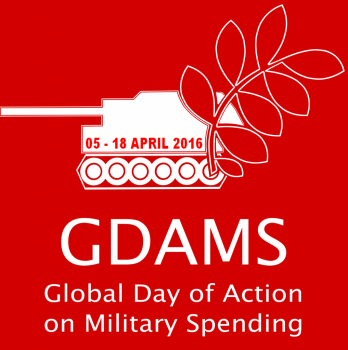 A campaign on the social networks (Facebook, Twitter) to reach and raise awareness among the public and the politicians. We invite you to use the hashtag #WELFARENOTEWARFARE and our designs to spread this message con efficiency.
A petition "Invirtamos el gasto militar en políticas de paz" with a letter addressed to the politicians for them to reconsider the Spanish population priorities. Sign and share!
A meeting with the Spanish political parties in Madrid to discuss the Spanish military Budget and spending. (We still have to determine the date in accordance with the political and parliamentary events)
A presentation of the book El lobby de la industria militar española, Pere Ortega. March, 31st 2016, 7PM @ Librería Espai Contrabandos (Barcelona), with the participation of the autor and Albert Recio, applied economics teacher at the UAB.
A webpage "GCOMS SPAIN" available on the official website of the Global Campaign on Military (GCOMS) Available @: http://demilitarize.org/gcoms-spain-2/
WHAT CAN YOU DO?
We encourage all individuals and groups to join the campaign to maximize the reach of the Global Day of Action as an opportunity to connect up with organizations and individuals who share our perspective on peace.
There are many ways to participate in the Global Day of Action on Military Spending: flashmobs, street demonstrations, banner displays, social media campaigns (Facebook, Twitter, Instagram) and video productions on YouTube. The main aim is to reach the public and media attention by creating powerful messages. To know how to get involved, please visit the website of the international campaign http://demilitarize.org/get-involved/
Since this is a partnership process, we provide materials for the organization of actions:
MATERIAL FOR THE 2016 CAMPAIGN

Military spending for social welfare spending 2016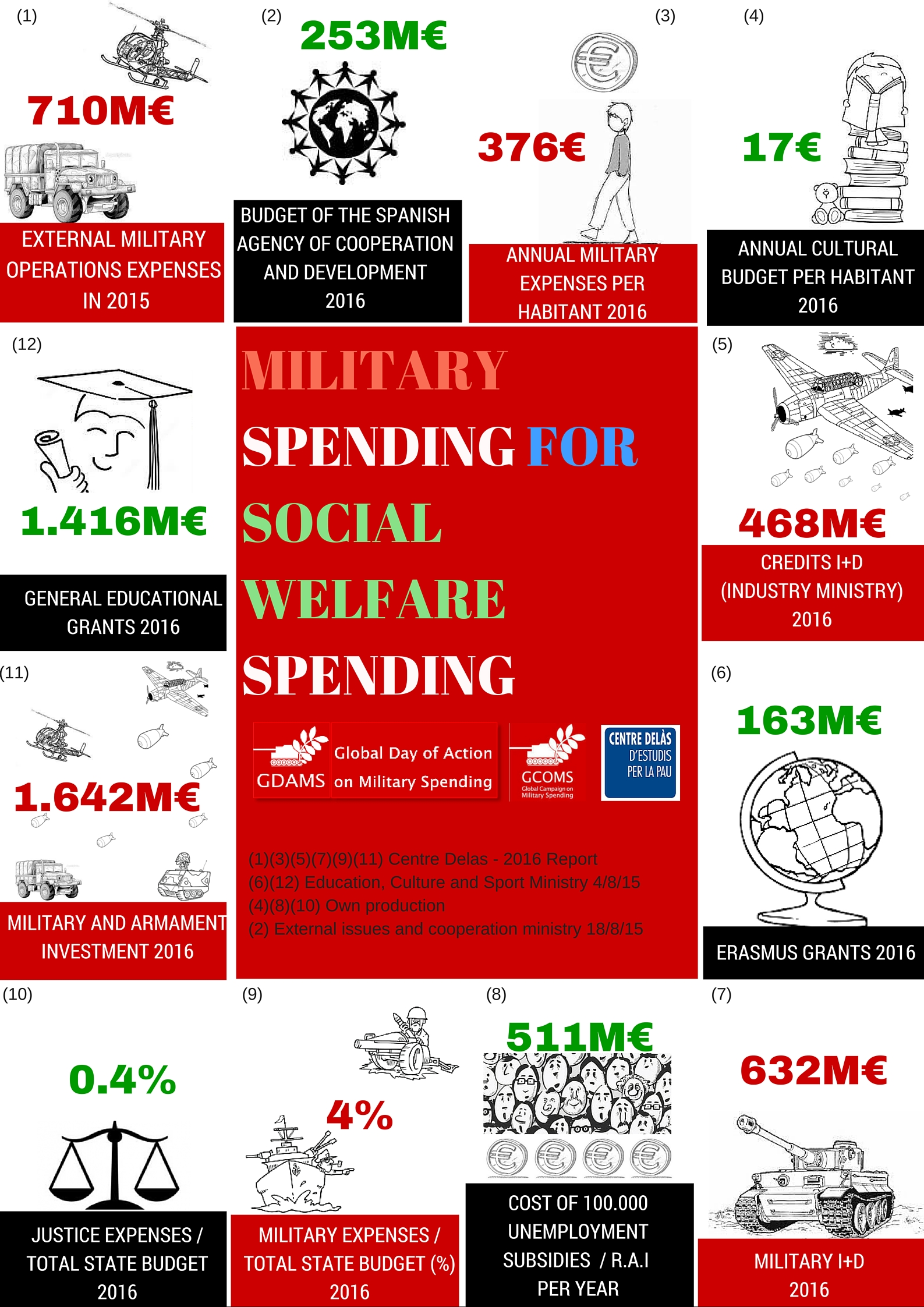 (Elaboration: Centre Delàs)
Twitter: Military spending for social welfare spending 2016
To attract the attention of the public, politicians and media, you can use these designs on Twitter with the hashtag #welfarenotwarfare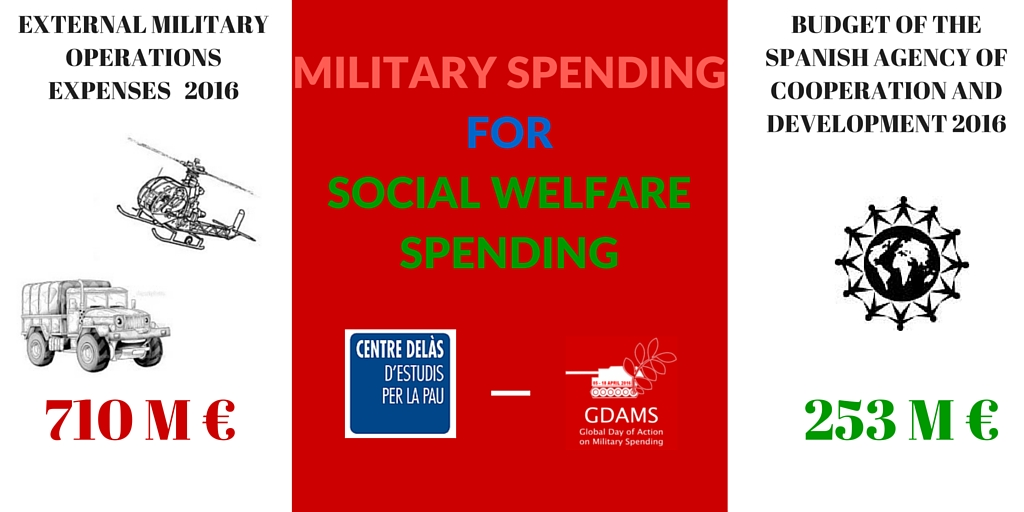 Origin: Centre Delàs, 2016 Report / External issues and Cooperation Ministry 18/8/15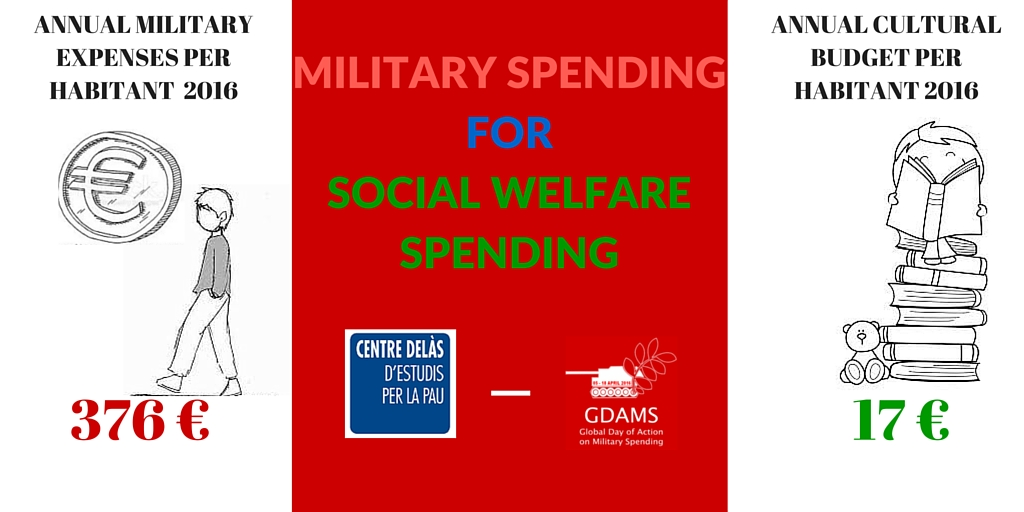 Origin: Centre Delàs, 2016 Report / Own production
Origin: Centre Delàs, 2016 Report / Education, culture and sport Ministry 4/8/15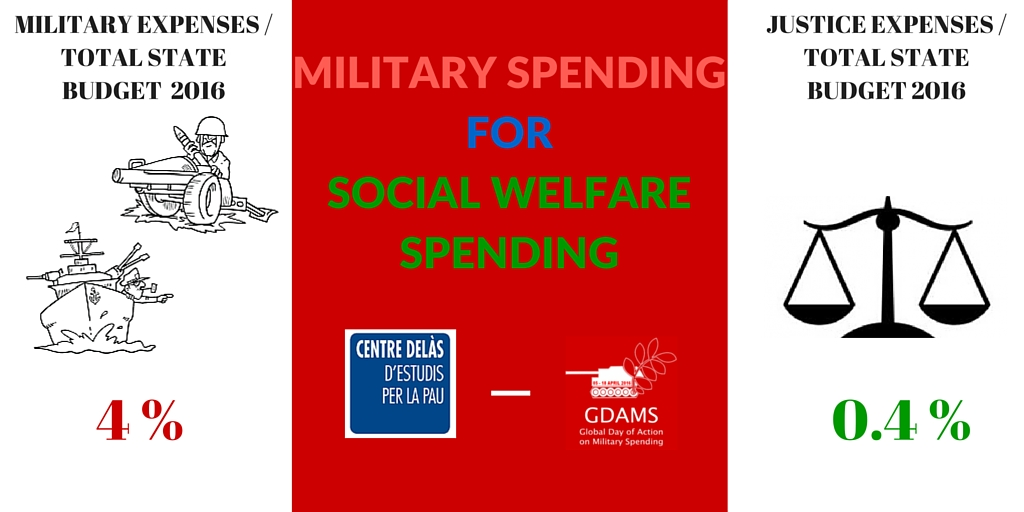 Origin: Centre Delàs, 2016 Report / Own production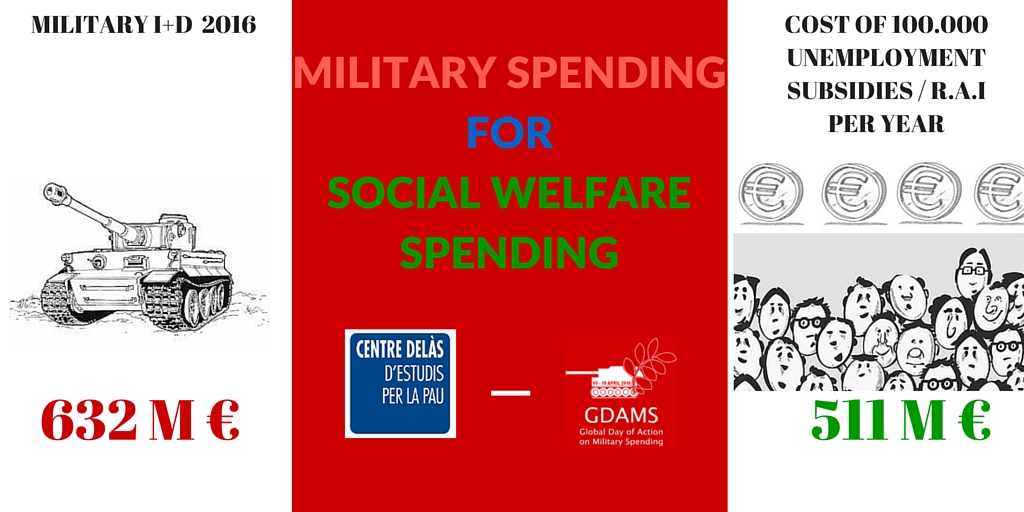 Origin: Centre Delàs, 2016 Report / Own production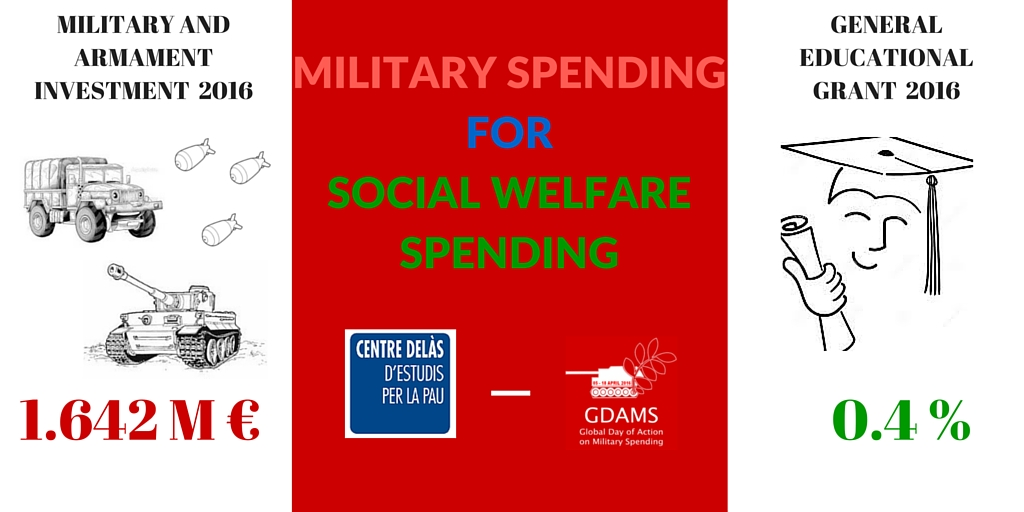 Origin: Centre Delàs, 2016 Report / Education, culture and sport Ministry 4/8/15
FOR FURTHER INFORMATION
To get informed about Spanish military spending and global military spending, we recommend reading the following reports:
To find more information about the Global Campaign on Military Spending (GCOMS), you may visit the following web-sites: