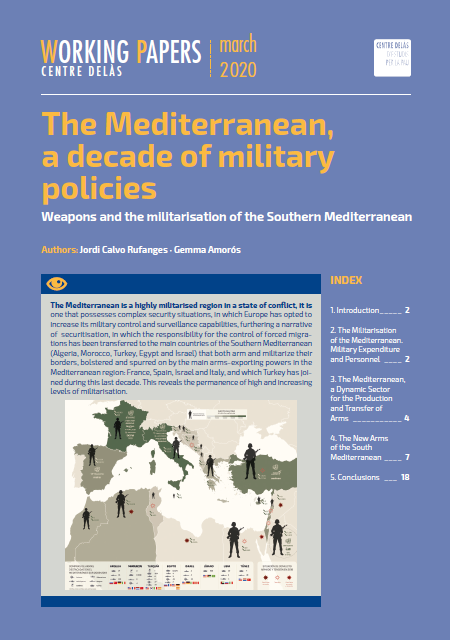 The Mediterranean is a highly militarised region in a state of conflict, it is one that possesses complex security situations, in which Europe has opted to increase its military control and surveillance capabilities, furthering a narrative of securitisation, in which the responsibility for the control of forced migrations has been transferred to the main countries of the Southern Mediterranean (Algeria, Morocco, Turkey, Egypt and Israel) that both arm and militarize their borders, bolstered and spurred on by the main arms-exporting powers in the Mediterranean region: France, Spain, Israel and Italy, and which Turkey has joined during this last decade.
Based on the analysis of different indicators on security and defense (military spending, military personnel, arms trade and the renewal of military arsenals) in the last decade, this Working Paper, prepared by the Centre Delàs d'Estudis per la Pau, in collaboration with Novact and Suds - in the framework of the work done by the ODHE (Observatory of Human Rights and Companies in the Mediterranean) - shows the role of European countries in the arms trade and the militarization of the Mediterranean South (the South and East basin of the Mediterranean region).
Authors: Jordi Calvo Rufanges and Gemma Amorós
Read and download the full Working Paper in English, in Spanish and in Catalan.