Centre Delàs joins an international campaign to denounce the use of Israeli-made killer drones at the EU borders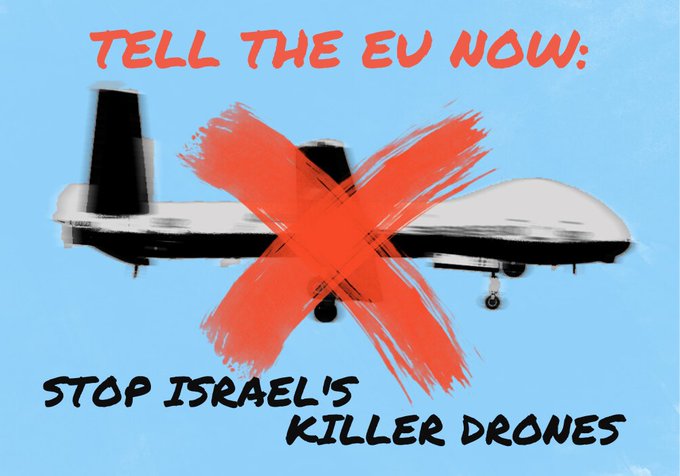 A broad alliance of civil society organizations across Europe, including those fighting in solidarity with Palestine, against militarization, for migrant rights groups and unions, launch an international campaign to call on Union Commissioners European Adina Vlean, Virginijus Sinkevicius and Yiva Johansson, to stop the use of drones made by the Israeli company Elbit Systems.
The Centre Delàs d'Estudis per la Pau has joined the petition that can be signed and shared here.
Read the full text of the petition here:
To: EU Commissioner Adina Valean, EU Commissioner Virginijus Sinkevicius, EU Commissioner Yiva Johansson
Dear Sir/Madam,
Since November 2018 the European Maritime Safety Agency (EMSA) has leased through the Portuguese company CeiiA two Hermes 900 drones, so-called 'killer drones' manufactured by Israel's largest military company Elbit Systems. Under the € 59 million worth 2 year leasing contract, the drones are used mainly to implement the EU's repressive anti-migration policies. Experts condemn the move to aerial surveillance as an abrogation of the responsibility to save lives. Worse, the Elbit's killer drones are supporting Frontex and national authorities in Greece, where migrants and refugees have been targeted with live ammunition at sea.
Elbit Systems develops its drones together with the Israeli military and promotes its technology as field tested – on Palestinians. It provides 85% of the drones used by Israel in its repeated military assaults and continued inhumane siege on Gaza. Hermes drones have been used to kill the four children playing at the beach during Israel's attack on Gaza in 2014.
These drones can kill but can't save lives.
Therefore, I demand:
EMSA to stop using these drones and EMSA and CeiiA not to renew the leasing contract.
Our national authorities not to request these drones for use in their airspace.
the European Union not to spend public tax money to finance Israel's military industry but instead to use its funds to protect human rights for all and not for the militarization of borders and the sea.
Sincerely,